The 50′ Viking Princess is a luxurious high-performance mid-sized English motor yacht. It is a very popular and classic model with a long production run from 2001-2010.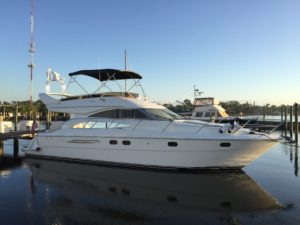 Follow JAWS II major refit of over $450,000 spent during 2015-2018. JAWS II is a 2002 50′ Viking Princess flybridge motor yacht. This model is also called a Viking Sport Cruiser. Refit is a boating term used to describe repairs or renovation.
This classic Viking Yacht is for sale
Contact:  Sailing@RyeYC.org
Located: Mamaroneck, NY (North side of Western Long Island Sound). The list price of a comparable 2018 Viking Princess is $1,800,000.
An explanation of names: Viking Yachts, Princess Yachts and Viking Sport Cruisers (VSC)
In 1995 Viking Yachts, legendary for building sport fishing boats, saw increasing U.S. demand for a sporty European motor yacht. Viking partnered with the high-end U.K. builder, Princess Yachts, to bring their boats into the U.S. under the Viking brand. It was named the Viking Sport Cruiser (VSC). Thus in 1996 the first Viking Sport Cruiser was imported into the U.S. By the later 1990's this collaboration expanded to 13 models from 40′ to 84′. Beginning in model year 2011 Viking and Princess changed the Viking Sport Cruiser name back to Princess Yachts for all boats imported into the Western Hemisphere. As of 2017 Viking Sport Cruisers continues as the distributor under the Viking Yachts umbrella to import Princess Yachts.
JAWS II Refit – Table of Contents:
1 – Home Page – 50′ Viking Princess Yachts
2 – General Photos and Layout
3 – Twin Turbocharged Volvo Penta Diesels
4 – Generator, Drive Shafts and Props
5 – Electrical and Thrusters
6 – Plumbing
7 – Exterior
8 – Interior
9 – About the Owner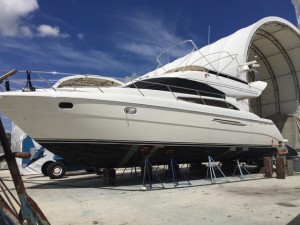 Viking Motor Yachts share a unique lineage with legendary blue-water Viking Convertibles that are built for ocean fishing far offshore (List price of a similarly-sized 2018 Viking Convertible is $2,700,000). Therefore Viking Motor Yachts are built to higher construction standards and for better performance underway. This becomes particularly important to recreational boaters when sea conditions change for the worse. A lesser boat with a huge-volume interior and all the bells and whistles is more likely to take a beating. You will feel it too.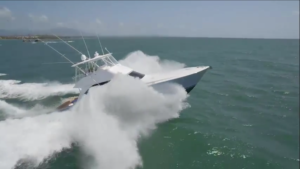 There are many benefits to owning a motor yacht intended for family cruising rather than a convertible intended for offshore fishing. These benefits include more comfortable living accommodations and half the fuel consumption per nautical mile. In conclusion, a motor yacht with "convertible DNA" offers the best of all worlds for recreational boating.
Specs:
Length:  50 feet
Beam:  14 feet 5 inches
Maximum Draft:  3 ft 8 in
Deadrise at Transom:  19 degrees*
Dry Weight:  33,600 lbs (approx 40,000 lbs with fuel & water)
Gross Tonnage: 26.44
Fuel:  500 gallons diesel
Engines:  Twin turbocharged Volvo Penta 675 hp D-12's with 1100 hours. (This is an upgrade from standard 450 hp engines. The larger engines make the boat 6 knots faster.).
Thrusters:  Side-Power SE95 24V in bow (new replacement in 2015) and Side-Power SE100 24V in stern (new addition in 2018) with twin joy stick controls. 
Transmissions:  Twin ZF 311A transmissions with a 1.501 ratio.
Generator:  Onan 11.5 Kw (upgraded replacement in 2015 from original Onan 9.5 Kw unit)
Cruising Speed:  28 knots (32 mph)
Maximum Speed:  30 knots (35 mph)
Accommodations:  Sleeps 6 people.  2 staterooms with Queen beds & 2 full heads. In addition the opposing sofas in the salon can be combined to form a King bed.
*Deadrise at Transom describes if the underwater part of a boat is shaped more like a sharp- or dull-knife. A sharp knife can cut through waves at higher speed with less pounding. However a dull knife will pound through a wave at higher speed. Pounding through waves is more likely to hurt your back, neck or knees. This is why a boat with a large interior volume and greater beam may be a bad choice if you plan to use your boat anywhere other than on a quiet lake. A Cigarette boat will typically have 24 degrees of deadrise at the transom. An express cruiser will typically have 17-20 degrees of deadrise at the transom. A flybridge motor yacht (typically with a large interior volume) will typically have 13-16 degrees of deadrise at the transom. A bulky heavy boat may have a deadrise below 10 degrees but it may not pound at all because it is built for slow speed. JAWS II is a flybridge motor yacht built upon an express cruiser hull. It is built for high speed performance.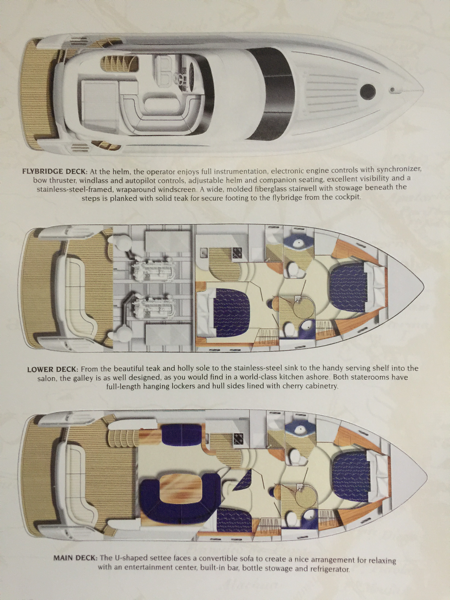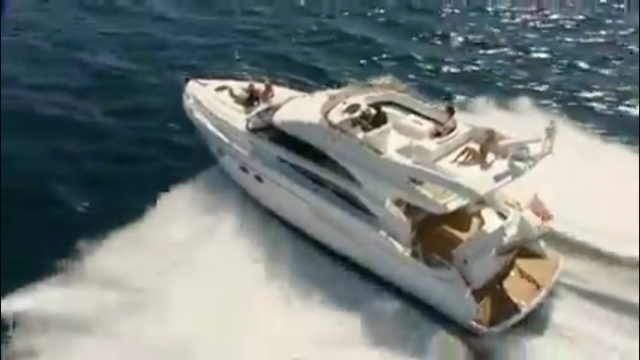 Click this link to see a video of a comparable 50 Viking Princess Yacht.
Many consider the 50 Viking Princess Yacht to offer an ideal balance between boat-like performance and flybridge motor yacht luxury*. This balance includes:
Length to Beam ratio* (excluding pulpit):  3.5
Horsepower to Dry Weight ratio:  0.04
Hull:  solid fiberglass non-cored hull (not balsa-cored)
Center of Gravity (COG)**:  moderate height above the waterline, moderate freeboard and a lightweight Bimini top
Windage**:  moderate freeboard and an open flybridge without a plastic window enclosure
Performance***:  seaworthy and fast Bernard Olesinski hull with excellent fuel economy
* Most boats have a length to beam ratio of 3.0. A slender boat with a ratio of 3.5 gives up interior volume to offer a gentler ride in bigger waves. For example a Cigarette-class boat will have a length to beam ratio of 4, 5 or even higher. Do you want a floating condo or a performance boat?
** Many new boats are built higher to accommodate a third full beam stateroom under the raised salon. This raises the Center of Gravity (COG) and causes greater Windage  A boat with a higher COG can rock more when traveling or at a dock. It will also be more likely to tip over in rough weather. A boat with greater windage will be blown more by the wind. This can decrease fuel economy and make docking difficult on a windy day.
*** Click on links below for references:
1. Sorensen's Guide to Powerboats: How to Evaluate Design, Construction, and Performance
2. The Elements of Boat Strength: For Builders, Designers, and Owners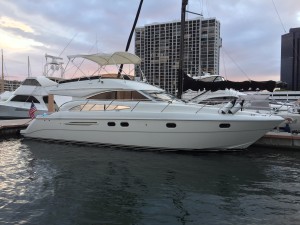 Straight shaft propulsion vs pod drive propulsion
Straight shaft propulsion offers simpler & less costly long-term maintenance than pod drives like IPS or Zeus. In addition the repair costs for striking an underwater object are much higher for pod drives because much of the motor is exposed below the hull. For most boaters the high cost of pod drive maintenance is much greater than the fuel cost savings pod drives offer. Ask your mechanic.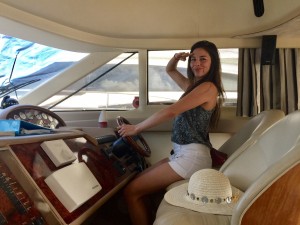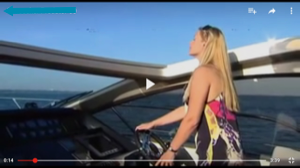 2018 refit:
* Added a Side-Power SE 10024 IP stern thruster with two dedicated batteries. This will work in conjunction with the existing Side-Power bow thruster. Dual joystick controllers were added at the upper and lower helms for the bow & stern thrusters .
2017 refit:
* Replaced both Electronic Control Units that are the brains of the engines. The ECUs collect and process signals from various on-board sensors. An ECU electronic module contains microprocessors, memory units, analog to digital converters and output interface units. This info is relayed to the two Volvo 4" digital engine displays.
* Two Volvo 4″ digital engine displays were added to the lower helm. These gauges provide much more detail about engine function beyond idiot lights
* All electronics, gauges, switches and dashboard panels on the flybridge were replaced. This includes new Garmin GPS Chartplotter/radar, autopilot, depth finder, VHF, Sea-Fire and all other electronics at both helm stations so they all communicate. The boat previously had different electronics brands (Garmin, Raytheon, Simard Roberson, Northstar) that did not communicate.
* All wiring has been completely removed and replaced from the FB to the engines and/or the lower helm. This includes new throttles and wiring harness home runs directly to the engines.
* Completion of 1,000 service for engines and generator (including removing and servicing all six heat exchangers or coolers for both engines and transmissions)
* Replaced Volvo Penta Electronic Diesel Control EDC at both helms
* Replaced interior halogen lights with LEDs
* Replaced hailer and searchlight on brow
* Replaced temperature sensors on both engines
* Replaced Newmar battery charger
* Stainless steel salon door was removed from the frame for lubrication
* Replaced stainless steel lock in salon door
* Complete removal of SS rub rail to caulk hull to deck joint & replace bolts
* Addition of ten courtesy lights with dimmer on flybridge
* Replaced #5 & 6 bilge pumps and switches
* Paint flybridge & radar arch
* Placed rigid connectors to stabilize radar mast in rough seas
* Repair or replace blinds throughout boat
* Repair main lower helm breaker panel cover
* Replace foil wrap insulation in engine room & lazarette
* Replace anchor windlass motor
* Replace all sanitation lines with high-end SeaLand brand
* Replace both sanitation Vacuflush pumps
* Replace Bimini with Stamoid and strengthen bows with six cross-bars
* Replace flybridge compass
* Refinish galley floor
* Replace flybridge trim tab buttons
* Replaced bilge pump #6 & float switch
* Repowder coat table stand on flybridge
* Repair chip on settee
* Placed Dri-deck beneath new upholstery for the entire exterior (cushions for bow, cockpit & flybridge)
* Placed Dri-deck below all FB lockers to keep dry all stowed items like PFDs
* New Stamoid cover for cockpit seats, FB dashboard and FB lounge pads
* Refinished steering wheel on flybridge
* Replaced plastic Viking logo in both steering wheels with teak
* Replaced all wiper blade assemblies
* Replaced HVAC control board in salon
2016 refit:
* Obtained all boat manuals
* Serviced Fireboy fire safety equipment
* Major service on generator
* Replaced two frozen thru-hulls valves
* Dry cleaned all soft goods
* Repaired stereo in salon & replaced all speakers on flybridge
* Replaced TVs, DVD players & stereos in both staterooms
* Addition of new cabinetry behind salon TV & both stateroom TVs
* Serviced all three HVAC units
* Resiliconed side main windows & sliders
* Replaced headboard fabric in both staterooms
* Reprogrammed autopilot
* Replaced buttons & repaired control panel on upper helm dash
* Addition of VHF extender
* Repaired port engine room extractor fan
* Repaired lock on salon door
* Repaired fiberglass where needed
* Painted boot stripe
* Addition of dual DC phone charger on flybridge
* Repaired or replaced broken hooks & clasps in cockpit
* Repaired cabinetry as needed
* Repaired all lighting
* Replaced water supply sender and gauge
* Replaced fresh water pump
* Replaced hailer
* Replaced broken exhaust fan switch in VIP head
* Replaced broken exhaust fan in master head
* Replaced toilet seats and lids and & added toilet paper holders in both heads
* Replaced windshield wipers & replaced washer lines
* New EPIRB
* New BBQ
2015 refit:
* Main engines and generator 1,000 hour service including sea water pump (This service flushed but did not remove heat exchangers at that time. All heat exchangers were removed and thoroughly serviced in 2017 – see above & section on engines for photos.)
* Replaced original 9.5 Kw generator with a 11.5 Kw generator
* New dual Racor 900 fuel filters with vacuum gauges for both engines
* Addition of Algae X fuel system
* New Racor 500 fuel filter for generator
* New D'Angelo exhausts for both engines
* New thru-hulls & hoses for both engines & generator
* New bottles, head units & service for Fireboy fire suppressing system
* Six new 12 volt Deka maintenance free batteries
* New Garmin Map 4010 – GPS/Plotter/HD radar
* New Garmin forward facing sonar
* New Side-Power SE95 24 VDC bow thruster & new batteries
* New turbo for starboard engine
* Paint most of the boat
* Replaced SMX controls for all three CruiseAir HVAC zones & service
* New interior upholstery, headliner, carpet & two new beds
* New upholstery for the entire exterior (cushions for bow, cockpit & flybridge)
* New septic system for both heads including new septic lines & VacuFlush pumps
* New septic holding tank discharge pump
* New Burl wood lower helm dashboard
* Mirrored window treatment
* New stereo for salon & flybridge
* New underwater lights
* New ice maker in cockpit
* New hot water tank
* New teak in cockpit & swim platform
* Rebed windshield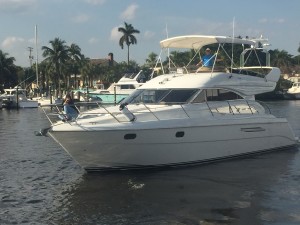 Honorable mention:
Gary Thayer Boatbuilder and Carpenter
Stuart, FL
(904) 753-9314
Mamaroneck Boats and Motors
Mamaroneck, NY
Scott Deuterman
(914) 698-2500
meg@mamaroneckboats.com
Carthom Upholstery Corp
New Rochelle, NY
Carlos Florentino
(914) 633-0061
Sea-Curity Marine Security & Electronics
Lindenhurst, NY
Frank Regan
(631) 226-1616
info@seacuritysystems.com
Birely Marine Surveying
Palm Beach, FL
Doug Birely
(954) 646-7219
bms510@bellsouth.net
Johnstons Marine Engine Services
Palm Beach, FL
Neil Johnston
(954) 448-0813
info@1jms.com
Marine Plumbing Company
Palm Beach, FL
(561) 841-3000
joan@marineplumbingcompany.com
C-Worthy Custom Yacht Canvas
Palm Beach, FL
Mike Banas
(954) 784-7370
canvas@cworthycorp.com
Total Marine Cosmetics Inc. Boat Detailing
Delray Beach, FL
Tyler Carlton
(954) 226-2866
totalmarinecosmetics@gmail.com
JAWS II Refit – Table of Contents:
1 – Home Page – 50′ Viking Princess Yachts
2 – General Photos and Layout
3 – Twin Turbocharged Volvo Penta Diesels
4 – Generator, Drive Shafts and Props
5 – Electrical
6 – Plumbing
7 – Exterior
8 – Interior
9 – About the Owner