The 50′ Viking Princess is a luxurious high-performance mid-sized English motor yacht. It is a very popular and classic model with a long production run from 2001-2010.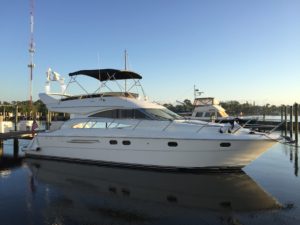 There are ten pages of refit details below if you are seriously interested in purchasing a Viking Princess. There is no other boat like it. Over $550,000 was spent on refit during 2015-2019. New work is ongoing. JAWS II is a 2002 50′ Viking Princess flybridge motor yacht. This model is also called a Viking Sport Cruiser. The newer models are called Princess Yachts. However these terms all describe the same boat brand. Refit is a boating term used to describe repairs or renovation.

This classic Viking Yacht is for sale
Detailed photos of the upgraded 11.5 Kw Onan generator (2015), rebalanced drive shafts (2016) and rebalanced props (2016) are provided towards the bottom of this page. Please scroll down if this particularly interests you. The list price of a comparable 2019 Viking Princess is $1,800,000.
Price:  Offers are welcome. You should really see JAWS II.
Email:  Sailing@RyeYC.org
Phone: (646) 470-1565
Location: Mamaroneck, NY (North side of Western Long Island Sound).
An explanation of names: Viking Yachts, Princess Yachts and Viking Sport Cruisers (VSC)
In 1995 Viking Yachts, legendary for building sport fishing boats, saw increasing U.S. demand for a sporty European motor yacht. Viking partnered with the high-end U.K. builder, Princess Yachts, to bring their boats into the U.S. under the Viking brand. It was named the Viking Sport Cruiser (VSC). Thus in 1996 the first Viking Sport Cruiser was imported into the U.S. By the later 1990's this collaboration expanded to 13 models from 40′ to 84′. Beginning in model year 2011 Viking and Princess changed the Viking Sport Cruiser name back to Princess Yachts for all boats imported into the Western Hemisphere. Princess's parent company, luxury-goods powerhouse LVMH, owns many brands including Louis Vuitton, De Beers, and Feadship Yachts. As of 2017 Viking Sport Cruisers continues as the distributor under the Viking Yachts umbrella to import Princess Yachts.
JAWS II Refit – Table of Contents:
1 – Home Page – 50′ Viking Princess Yachts
2 – General Photos and Layout
3 – Twin Turbocharged Volvo Penta Diesels
4 – Generator, Drive Shafts and Props
5 – Electrical and Thrusters
6 – Plumbing
7 – Exterior and Hull
8 – Interior
9 – About the Owner
$ – Purchase

Straight shaft propulsion vs pod drive propulsion
Traditional straight shaft propulsion offers simpler & much less costly long-term maintenance than pod drives like IPS or Zeus. In addition the repair costs for striking an underwater object are much higher for pod drives because most of the motor is exposed below the hull. On a trip you could be stuck in an unknown marina for weeks or months waiting for specialized repairs to your pod drives instead of having the local mechanic rebalance the dinged prop on your shaft drive boat.
The high cost of pod drive maintenance is much greater than the fuel cost savings pod drives offer for the vast majority of boat owners who use their boats for 50-150 engine hours per season. Ask your mechanic about the high annual maintenance costs for pods including the recommended service at five and ten years. The resale value of your boat will be affected by the cost of the recommended service at five and ten years even if you don't plan to own your boat for more than a few years.
Very few mechanics have the skills, computers and tools necessary to repair pod drives. Ask your mechanic who can repair your pod drives if you damage them locally or while on a family boating vacation. Discover the distance a pod specialty mechanic is from places you plan to visit on boating family vacations. Ask how long these repairs can take and how much these repairs could cost. Many knowledgeable owners of motor yachts prefer straight shaft propulsion with bow and stern thrusters. Two thrusters facilitate straight shaft docking like pod drives without the many hassles pod drives present.
Both shafts and propellers were removed and rebalanced.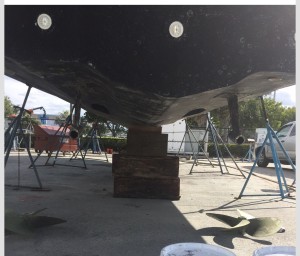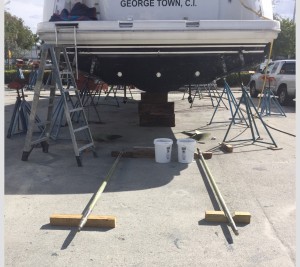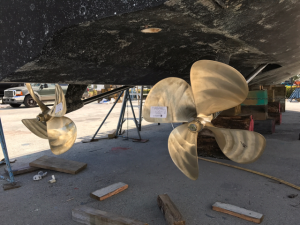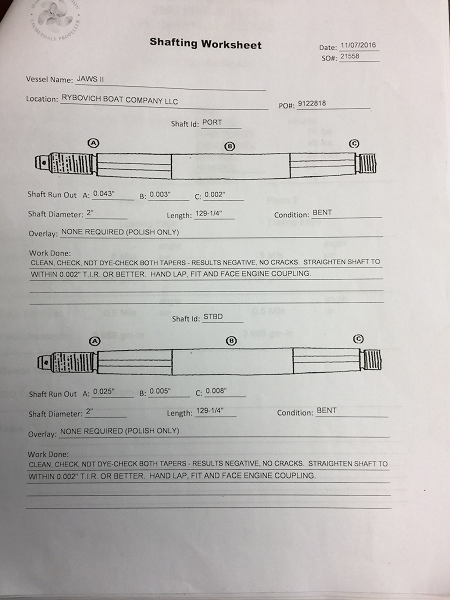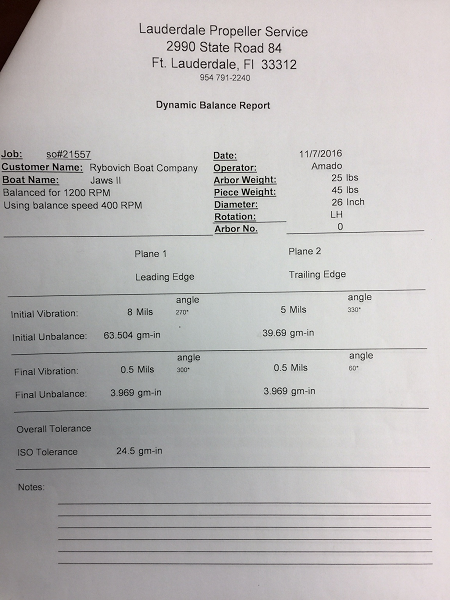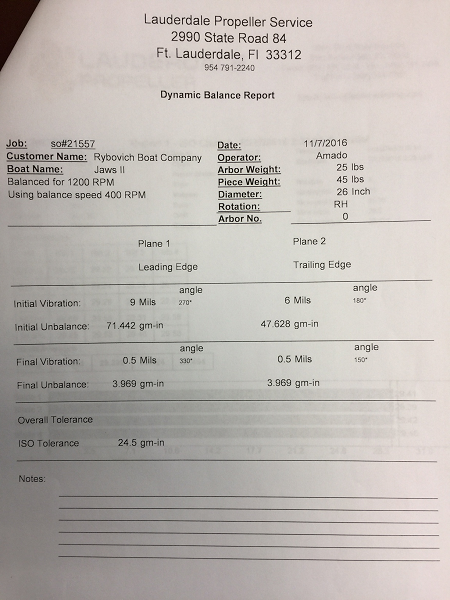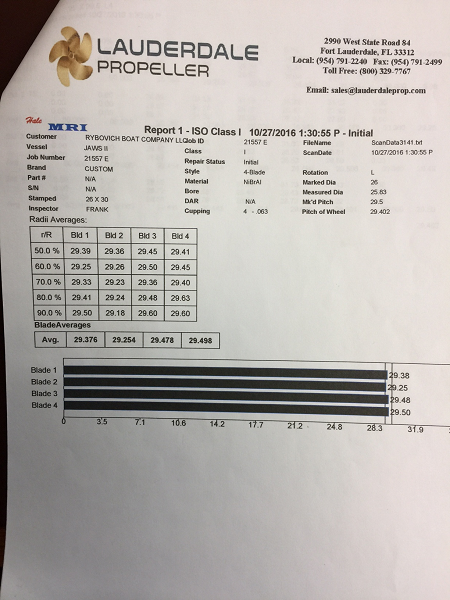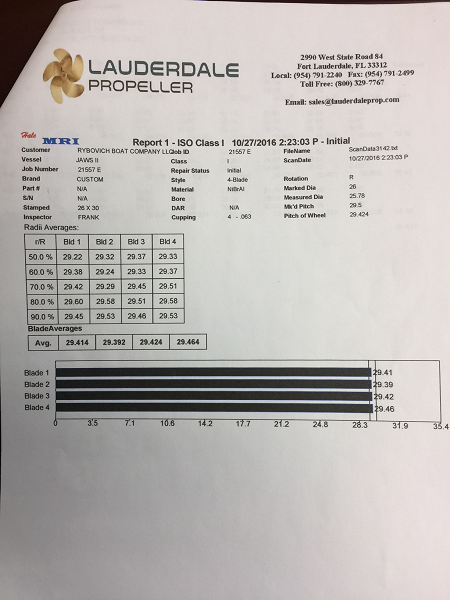 The original 9.5 Kw Onan generator was replaced with a 11.5 Kw Onan unit.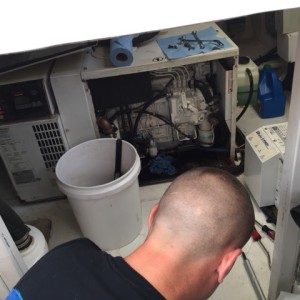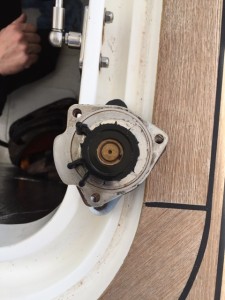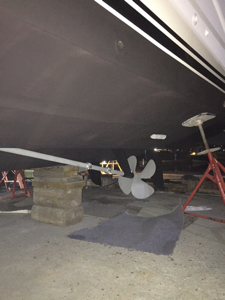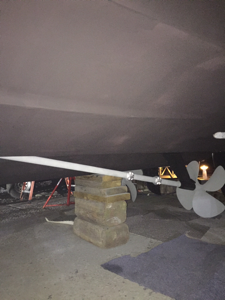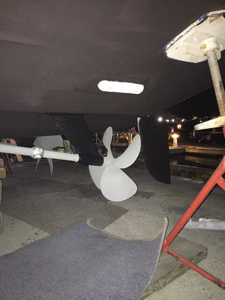 JAWS II Refit – Table of Contents:
1 – Home Page – 50′ Viking Princess Yachts
2 – General Photos and Layout
3 – Twin Turbocharged Volvo Penta Diesels
4 – Generator, Drive Shafts and Props
5 – Electrical and Thrusters
6 – Plumbing
7 – Exterior and Hull
8 – Interior
9 – About the Owner
$ – Purchase